Ayad Al-Tuhafi qualified certified member of British Parachute Association (BPA)
British Parachute Association (BPA) was formed in 1961 and incorporated as a not-for-profit company limited by guarantee in 1966. BPA is the governing body of sport parachuting in the United Kingdom and is committed to maintaining the highest standards of safety in the sport.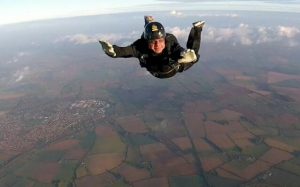 BPA co-ordinates a varied program of competitions, promoting skills development and excellence in skydiving, funding national teams and individuals who meet strict performance standards to World Championships. It also supports major events such as the BPA Nationals in all of the major skydiving disciplines, together with BPA UK Skydiving League (UKSL) and BPA Grand Prix Competitions held at Affiliated Parachute Training Organisations throughout the UK.
For more, see the 'About the BPA'  and 'BPA Archive Project'.  Video: an introduction to parachuting history in the UK.